Zlatan Ibrahimovic silenced his critics by putting in a man-of-the-match performance as Arsenal were demolished by AC Milan at the San Siro.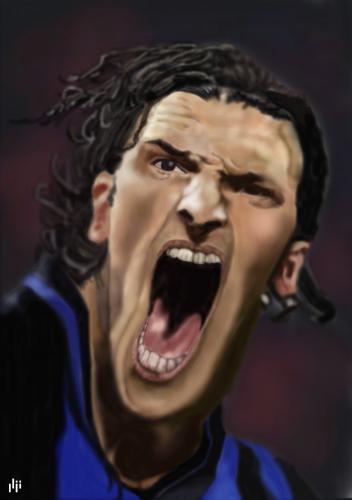 The Swedish striker has gained worldwide recognition as one of the best players on the planet. However for some reason, English football fans have long been sceptical of his abilities.
A criticism often levelled at 'Ibra' is that he doesn't turn up in the big games, or that he's never really performed in the Champions League. This myth was debunked on Wednesday night.
Two assists and a goal showed Arsenal fans what could have been. Wenger tried to sign the striker twelve years ago but the deal collapsed when Ibra allegedly refused to take part in a trial.
Although one good performance against an admittedly terrible Arsenal side won't be enough to convince everyone of his talents, it's certainly a good start. Five goals and three assists from five Champions League starts this season is admirable, including scoring against his former club Barcelona in the group stages.
With Milan all but through to the quarter finals, could this be the year Zlatan wins the Champions League, a prize that has eluded him for long?
We'll have to wait and see. It would add the gloss on an absolutely magnificent career so far. A true champion, Ibra has won nine league titles in the last ten years, surely a record only he can boast.
After winning two Eredivisie titles with Ajax, Zlatan went on to win two Serie A titles with Juventus, albeit these were revoked due to the match fixing scandal that emerged in 2006.
After Juventus were demoted due to their involvement in the aforementioned scandal, Zlatan moved to rivals Internazionale. His three year spell here saw him score over sixty goals, provide over thirty assists, and of course pick up three Serie A titles.
2009 saw Ibrahimovic become the second most expensive footballer in history with his move to Barcelona. During his solitary season in Spain, Zlatan won La Liga, won the Spanish Super Cup on two occasions, won the UEFA Super Cup and won the Fifa World Club Cup. He scored twenty-one goals, including the winner in the El Classico, as well as providing seven assists.
Much to my bewilderment, many deem his spell at Barcelona unsuccessful. Such a conclusion is wholly inaccurate and unfair. This was Ibrahimovic's first season in Spanish football, and his record almost exactly matched that of David Villa during his debut season at Barcelona. Needless to say, Villa has played all his life in Spain.
After publicly falling out with boss Pep Guardiola, it was time to move on for Ibra, who returned to the San Siro. This time though he would be playing in the red and black of the Rossoneri.
Being an avid fan of Serie A, I can say with confidence that he almost single-handedly won Milan their first league title in seven years. Despite some ill-discipline towards the end of the season, his fourteen league goals, eleven assists and monumental influence saw Milan take the title.
His second season is going even better, Wednesday nights penalty was his twenty-second goal of the season, in all competitions. With Milan still in the hunt for the Scudetto, Ibra could pick up his tenth league title. A Champions League medal is what he'd really like though.
With such achievements already to his name, it's difficult and confusing to see English fans still criticising him. Even if he hasn't performed to his highest level in the dozen games most English fans will have seen him in, how can this negate from over 500 games he has played well in for club and country?
Martin O' Neill once described Ibra as the 'most overrated player' on the planet. I also remember seeing a video where Milan legend Franco Baresi implied Ibrahimovic's talents exceed that of Dutch legend Marco van Basten.
Whilst he will always divide opinion, it would be a sin to overlook him when talking about the best players in the last twenty years.