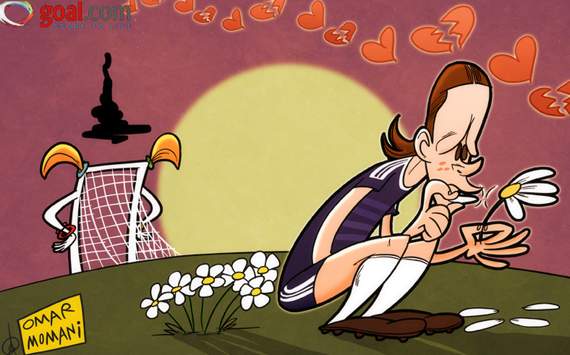 FERNANDO TORRES has become a frightened striker. Frightened of getting a chance because he is frightened of missing a chance.
Frightened of the reaction he will get if that ball goes wide.
He no longer wants to be in a position to score because then he can't be criticised if he misses.
On Saturday, he had the perfect opportunity when he came on with around 15 minutes left to get a goal against an already beaten Bolton.
But when Juan Mata got the ball wide and looked for a fox in the box, Torres was stood outside of it. He didn't want to know.
I really don't know if he is ever going to get back from the place he is in now. Certainly not at Chelsea.
He arrived for a ridiculous fee of £50million probably knowing that it was the owner rather than the manager who wanted him. He got off to a bad start and it has been downhill from then on.
What he has stopped trying to do is get those bread and butter goals.
We saw at Liverpool he can have the eye for the spectacular.
But when you are on a barren run you have to get in that box, in amongst the flying heads and boots and pick up a scrap.
Some strikers become legends from doing just that.
Look at Gary Lineker and at the 150 goals Ruud van Nistelrooy scored for Manchester United. I don't think one of them came from outside the area.
You have to be in there to get those chances.
You have to be moving too, making yourself a nuisance, but he is not even doing that. I thought that when Didier Drogba went to the African Cup of Nations, Torres would have the chance to shine, to be the main man, but he continued to fade.
I have never known any other striker with his talent to be in a position where he has not scored in 21 games for his club.
He looks shot and needs a cut-price move away.
We have all had barren spells, I had one with England leading up to Euro 96 of 13 games lasting nearly two years without a goal for my country.
I was fortunate that I was still scoring goals for my club.
I also will never forget Terry Venables saying to me a month or so before the tournament that no matter what, I was still his No 1 striker.
That gave me a great lift and helped me back on to the scoring trail for my country.
I don't know what Andre Villas-Boas is saying to Torres.
Maybe there is nothing he can say.
Only the player himself can sort out what seems to be a mental problem.
An art that came so naturally to him now fills him with angst.
I hope he can come out of it but I seriously have my doubts.
source:
sun sport