Sir Alex Ferguson's players do not catch the eye as do Real's or Barça's but together they seem irresistible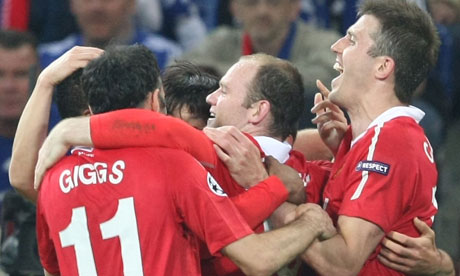 Manchester United may very well win the European Cup again this year, but they would be without hope in the final if glamour were the decisive factor. There can be no prospect of rivalling Barcelona or Real Madrid on that score. This, however, is a situation very pleasing to Sir Alex Ferguson. His approach to winning the first leg of the semi-final in Gelsenkirchen was dependent on organisation and maturity, even if that did not stop the side from being greatly superior to Schalke during the 2-0 victory.
In the broad context of football history, it is still a little odd to witness a painstaking United. Over so long a history, the club has had line-ups with all sorts of characteristics, but the sides that stick in the mind were addicted to risk as much as flair. The apotheosis of that came in 1999, when United reversed the whole course of the final in stoppage time to beat Bayern Munich.
nice piece, go on and read more at

www.guardian.co.uk