The real George Best - Old Trafford, 1963
The author Keith Dewhurst watched George Best make his debut for Manchester United in 1963 and fell in love at first sight

Keith Dewhurst
The Guardian, Friday 22 May 2009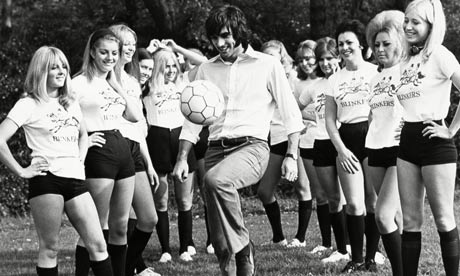 George Best shows off his skills to Blinkers Ladies football team
George Best made his debut for Manchester United aged 17 on 14 September 1963. The light was grey but even and I stood above a crush-barrier at the curve of the Stretford End, which gave me a perfect view up the byline of the moments that announced his genius. The opponents were West Bromwich Albion and Best's marker a bulky but effective Welsh international full-back named Stuart Williams.
Best's deadliest trick was to take the ball so close to a defender that when he beat him recovery was impossible, and after about 15 minutes of his debut he body-swerved Williams into performing a complete blundering circle. Best continued up the byline. Williams retorted with infuriated hacks. Best was not intimidated. One knew that here was the real thing.
He did not return to the first team until after Christmas but when he did it was clear that if Denis Law was the most effective player British football had produced since the war, Best was the most naturally gifted. Has anyone since been better? I think not. And there they were in the same forward line.
Best's charisma, his grin and his lifestyle made him famous beyond football, an emblem of the spirit of the '60s. The dark side of that gets all the attention, somehow, as though it was his career and not his life that was dogged by addiction. In fact, in those days of unsophisticated sports medicine, 10 years at the peak was good, and that is what Best managed.
What was harum-scarum about him has distracted attention from other things, like the fact that Manchester United were the only club who wanted to sign him. Everyone else thought that for all his blazing ball skills he was too small, and would never make a player. They were unwilling to take the risk. Matt Busby was willing, and his profound belief in ball-playing skill is one of the things that made him a great manager and United a great romance. Elsewhere the lack of an over-riding belief in ball-play explains why England have failed so often at international level, and still cannot produce large numbers of top players.
At a later stage of his life Best lived in Chelsea. And it was at Chelsea that I last saw him, half-fit and between clubs, in a 1975 benefit match. For one of his two goals he stood in the inside right position for a corner. He feinted to jump. The defenders rose too soon, came down off-balance, and Best put the ball in the net. Still amazing after all those years.
•
Keith Dewhurst is the author of When You Put on a Red Shirt: The Dreamers and Their Dreams – Memories of Matt Busby, Jimmy Murphy and Manchester United, published by Yellow Jersey Press.